If you're looking for an ambitious and transparent pay per click management service, look no further than our leading PPC agency. We utilise a wide range of tools and resources to help you manage your campaigns efficiently and effectively. From ad targeting to reporting, WebBox's pay per click management services have you covered. Get in touch today and get the most out of your PPC campaigns.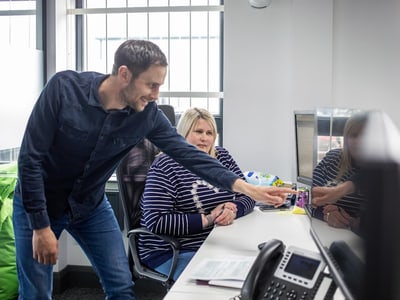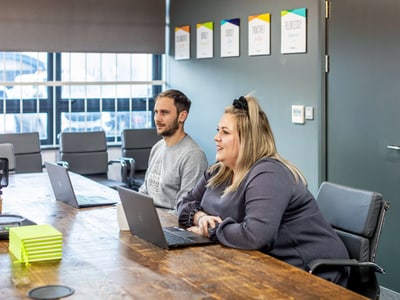 PPC Management Service Delivering Measurable & Targeted PPC Advertising for UK Businesses
Whether you are just starting out or already have a successful campaign, we can help you optimise your PPC efforts with our leading Google AdWords management services. We have the expertise to identify and remove any harmful elements that can potentially hold back your PPC campaign's performance. Let our expert PPC management service take your PPC campaign to the next level and get the best performance out of your PPC budget. Proactive management of your company's pay-per-click campaigns is our speciality, and you will see the difference when you work with the leading Cardiff PPC agency.
The WebBox Pay Per Click Management Services
In today's online business world, there is always a need for new and innovative methods to bring in more customers and increase profits. PPC campaign management services are one such innovation, and working with an experienced PPC agency can provide your business with a wealth of benefits. If you are looking for increased ROI on your ad campaigns, you have found the right PPC management agency for the job. Read More...
Pay Per Click Management Company Bringing Fast Growth To Your Business
In the world of online advertising, PPC management is essential for businesses looking to generate leads and sales from their website. By working with the WebBox pay-per-click management agency, business owners can ensure that their PPC advertising budget is
managed in a highly targeted and efficient manner. Working with WebBox's PPC management service means that not only will your ads be more likely to reach their target audience and be monitored and tweaked on an ongoing basis to achieve the best possible long-term results. Get started with our pay per click management services by contacting the team today for a free consultation!
Google Ads Management Services
Is your company looking for increased website traffic? When you contract our pay per click management company, we will more effectively target specific keywords related to your products or services. As a result, WebBox's Google AdWords campaign management service will provide your website will receive more visitors who are interested in what you have to offer and, above all, improve your business ROI. Get started today and see the difference with our bespoke Google ads management services.
Remarketing PPC Management Services
Our pay per click campaign management services are designed to help businesses of all sizes target the right audience, so you can reach the ideal customers and not waste money finding the wrong ones. Using WebBox's bespoke PPC campaign management services will ensure that your companies remarketing advertising efforts are effective and efficient. Don't hesitate to let the WebBox pay per click management agency help you take your company's remarketing ad campaign to the next level.
Social Media PPC Campaign Management Services
Social media has become an increasingly important part of online marketing in recent years. For businesses looking to create a successful social media campaign, our PPC management agency is here to ensure you get the most out of your ad campaigns. As your PPC agency, we will develop and execute a successful paid social media campaign by creating and managing paid ads on various social media platforms. Our PPC advertising services are second to none; contact us for a consultation.
YouTube Pay Per Click Campaign Management Services
As a business, you may consider using Youtube to reach new customers and promote your products or services. But what if you don't have the time or resources to create and manage a successful Youtube campaign? That's where a Youtube PPC management company can help. Our renowned PPC company knows exactly how to develop and target effective ads, measure results, and adjust campaigns to ensure you get the most out of your investment. Contact us today for more information about our YouTube focused pay per click campaign management services.
How Does WebBox Approach Pay Per Click Campaign Management Services for Our Clients?
WebBox is a full-service online marketing company specialising in Google AdWords campaign management services. We have a team of experienced PPC professionals dedicated to helping our clients achieve their desired results. Our approach to AdWords management services begins with a campaign tailored to each client's unique needs and goals. We take the time to understand our clients' businesses and create customised PPC campaigns that are both cost-effective and efficient.
At WebBox, our goal is always to help our clients achieve the best possible return on investment (ROI) with Google AdWords. Campaign management services are our speciality, and you will see that with a noticeable uptick in your web traffic and customer conversion. One of the main advantages of our pay per click management service is that it is expertly targeted and therefore has a much higher chance of reaching the right customers.
How Does the WebBox Cardiff PPC Management Service Support Your Businesses?
In a world where technology is constantly changing, it can be difficult for businesses to keep up. This is where the WebBox PPC services come in. Our unique service helps companies manage their online ads and pay-per-click (PPC) advertising. WebBox is the PPC agency Cardiff residents rely on to get the most out of their ad campaigns. Our expert team of highly trained professionals are dedicated to helping businesses grow and succeed online with our intuitive pay per click management services.
We offer a variety of packages to suit the needs of any business, large or small. Our PPC services are customised for each business to achieve the best results possible. WebBox PPC Management Service is an affordable and effective way to improve your business's online presence. In other words, you will get more bang for your buck when you use our PPC agency and save much-needed time to focus on different aspects of your business.
Why Should Your Company Use WebBox As Your PPC Management Company in Cardiff?
If you're looking for a Cardiff-based pay per click agency that can help you achieve your marketing goals, look no further than WebBox. We are a full-service agency that can manage all aspects of your PPC campaign, from creating and managing ads to tracking results and optimising campaigns to ensure maximum ROI. Let our Cardiff PPC agency help you achieve your company's goals with top-quality Google ads management services that get results. Get in touch today!
Our team of experienced PPC management service professionals have the knowledge and expertise to help you get the most out of your PPC campaign, and we'll work tirelessly to ensure you see the desired results. So if you're looking for a trusted partner to help you with your PPC management, then don't hesitate and contact us today - we'd be happy to discuss your company's needs and show you how our Google AdWords management services can help!
The WebBox PPC Management Agency in Cardiff Offers:
WebBox is the leading PPC agency in Cardiff and offers affordable and effective pay-per-click advertising services to businesses of all sizes. Our experienced team of PPC management experts will help you create and manage a successful PPC campaign that will generate more leads and sales for your business. Our Cardiff PPC company provides complete PPC management solutions, including PPC campaign creation and management, existing ad campaign optimisation, ad copywriting, tracking and reporting. The WebBox pay per click management service team understands that your business relies on advertising to grow and prosper, so we work tirelessly to ensure every aspect of your company's PPC campaigns is successful.
Interested in WebBox's Google AdWords Campaign Management Services? Get In Touch!
Please get in touch if you're interested in learning more about how WebBox can help manage your Google AdWords campaigns! We are your trusted experts in PPC management and offer a wide range of services to help you get the most out of your advertising dollars. Our team of pay per click management service experts would be happy to discuss your specific needs and goals. Let us ensure that you get the best return on investment from your PPC. Cardiff area businesses know that WebBox gets results with top-quality Google AdWords campaign management services that simply can't be beaten.